Yogoda Satsanga Society of India (YSS) was founded by Sri Sri Paramahansa Yogananda in 1917. The mission of YSS is to make available to all the ancient scientific teachings, and meditation techniques of Kriya Yoga for achieving all-round success, well-being, and a direct personal experience of God. YSS has more than 200 centers across India to help all Truth-seekers to experience the power of group meditations and to share in spiritual fellowship. The bustling present-day Pune Dhyana Kendra had a humble beginning, starting with a handful devotees in 1978. It was somewhere in August 1978 that Pune devotees of YSS requested Ranchi Ashram to formally setup a Dhyana Kendra in the city. The first assembly was held at Sant Namdeo Mandir Hall where about 30 devotees were present. As it became regular, a fee of Rs.11/- was paid as rent for a one hour session! Sri Manohar Sabnis then arranged for conducting group meditations at his home and thus on each Sunday, about 20 devotees started assembling. At the same venue, a free Homeopathic clinic was also started twice a month which is continuing till today at Yogoda Satsanga Sarovar Sadhanalaya (a YSS retreat center near Pune). Due to some difficulties, the 'group' moved to a nearby Devi Mandir but which was not convenient due to disturbance from a regular flux of people in the Mandir! The group then shifted to Sri Limaye's house on BhaktiMarg (Law College Road) where Swami Bhavananadaji visited the center. Then once again, Sri Limaye shifted to Kolhapur and the Group was again in search for a Meditation Place! Then a devotee, Sri Lasure gave consent to run the Mandali at his residence on JM Road. In the year 1995, Sri Lasure expired and the center was shifted to Sri P. B. Kattakar's house for regular group meditations on Sundays and Thursdays till 2000.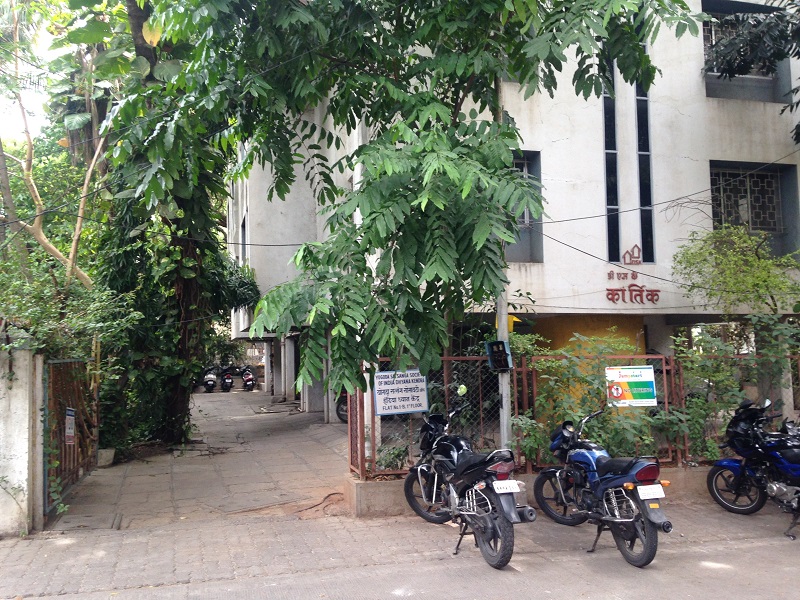 In 2000 to 2001, the Kendra at last found an independent residence at Law College Road where it has been standing tall until the present. Truthseekers from across the city come into the shade of this Abode of silence to seek inner peace and tranquility through the practice of scientific daily meditation as taught by Sri Sri Pramahansa Yogananda.
Pune city has a direct connection with Paramahansaji. Dr. V.N. Navale, a journalist friend of Paramahansaji from Pune contributed towards sending a portion of Mahatma Gandhi's ashes now kept in a Memorial at SRF Lake Shrine (California, USA). Dr. Navale also arranged the stay and public talks in 1936 when Paramahansaji stayed at Regent Hotel, Mumbai. It was at the Regent Hotel that Swami Sri Yukteswarji appeared to Paramahansaji in a vision after his Mahasamadhi as described in the 'Autobiography of a Yogi' in chapter 43 – 'Resurrection of Swami Sri Yukteswar.'
All Commemorative functions are held on the Kendra premises. The Pune Kendra also has affiliated sub-centers in devotees' homes, where conducted group meditations are being held on different days of the week.
A prayer box is placed at the altar where anyone can put names for requesting prayers. Devotees of the Kendra and sevaks pray for all the names included here.
Visiting hours:
YSS Pune City Dhyana Kendra at Law College Road is open during weekdays (Monday, Tuesday, Wednesday and Friday) for Individual Meditation (no conducted or guided meditation) and office work between 10 AM - 6 PM. All devotees are welcome to make good use of this opportunity. The office primarily attends to Sales of YSS material, acceptance of Lesson and Magazine subscriptions, donations, and addressing inquiries related to YSS activities and other office work.