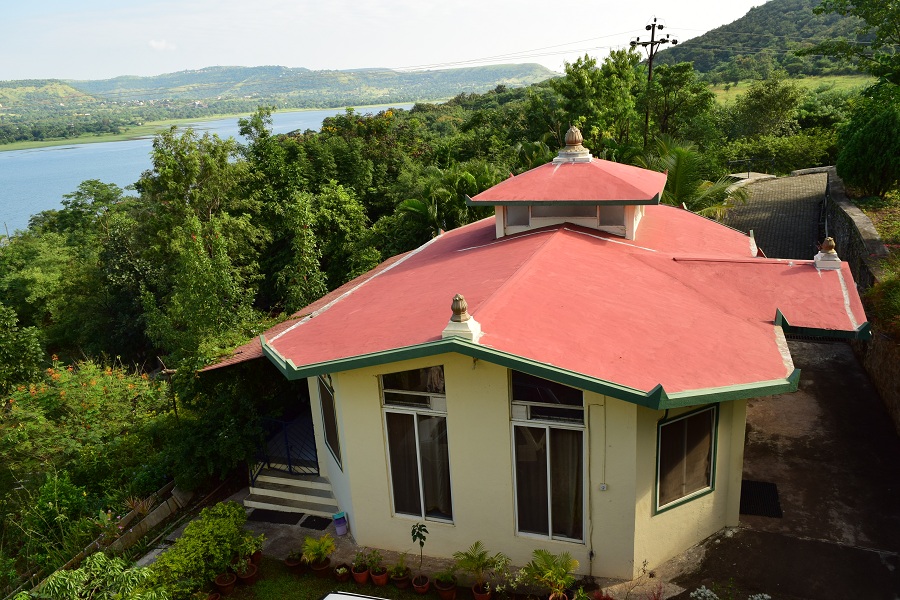 Yogoda Satsanga Sarovar Sadhanalaya
12th Kilometer milestone to Panshet Dam, Panshet Road, Khanapur Village
Opposite Nand Mahal
1 stop ahead of Shantivan resort
2.5 KM ahead of Khanapur Village
Dist. Pune
Maharashtra
Phone: 9527495441
Email: [email protected]
In 2003, God and Gurus blessed Yogoda devotees in Pune with a beautiful Retreat center, the Yogoda Satsanga Sarovar Sadhanalaya, surrounded by hills and a backwater lake of Khadakwasla Dam. This picturesque retreat center was inaugurated by Swamis Sivananda, Smaranananda, and Vasudevananda on 25th December 2003.
"Come into the silence of solitude and the vibrations there will talk to you through the voice of God." -Sri Sri Paramahansa Yogananda.
Away from the hustle and bustle of the city life, nestled in the picturesque Sahyadris, by a tranquil lake lies the Khanapur Sarovar Sadhanalaya. This retreat is a perfect getaway for sadhaks to leave behind their worldly concerns. They can seek the Divine Beloved and intensify their sadhana in the solitude of the serene environs.
Sarovar Sadhanalaya is open for individual Retreat, all round the year. To request for accommodation please click here. Devotees need to confirm their program if they are planning for an overnight stay. This may be done by calling +91 9890199093, preferably at least two days before the scheduled arrival.
Devotees need NOT request for confirmation for a day visit.
For the month-end retreat at Sarovar Sadhanalaya (Khanapur), devotees need to register with Shri Rajiv Mehta at least a day before the scheduled program. Please note that a special mailer will be sent out a week before this monthly program.
A typical month-end retreat structure is as follows:
Saturday -
12:00 PM to 1:00 PM - Lunch
4 PM to 4:20 PM - Energization Exercises
4:20 PM to 8:00 PM - Long Meditation
8:00 PM onwards Dinner Devotees mostly then stay
back at Sadhanalaya and continue with spiritual reading, nature walk, meditation etc.
Sunday -
7:30 am to 8:15 am - Breakfast
8:30 AM to 8:50 AM - Energization Exercises
8:50 am to 12:30 PM - Long Meditation
12:45 PM onwards - Lunch